Hi, I am so excited. Just discovered this wonderful new Lightroom Plugin, Pro Image Share. Previously I was using Sticky Albums. Although I really liked the Sticky Albums, cost was a huge influence. Since I already host my own websites, Pro Image Share was most cost effective for me and my purposes. For iPhone and iPad users, the neat little icon's will be added to your homepage just the same. For Android users it's not quite as easy just need to do an extra step or two. Simple instructions were found on this website which I have included below.
This entire shortcut and trick on the Samsung Galaxy S5 only takes a few seconds, and is extremely simple. Shortcuts were added to the homescreen, and you'll want to do the same using these steps.
The stock web browser on the Galaxy S5 is simply called "Internet" and is Samsung's own web browser like Chrome or Internet Explorer. While using the stock Internet app simply pull down to reveal the address bar where you type the website name, and tap the three dots to the far right of the screen. This is the menu button which pops down to reveal a few options. A few down simply tap "Add shortcut to home screen" and you're done.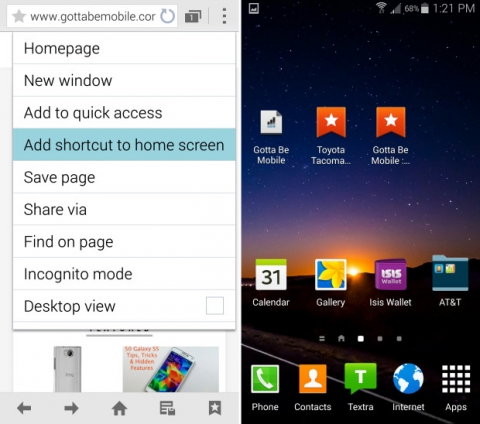 The exact page you were viewing once you press add shortcut to home screen will now be added to your smartphone. While flipping through homscreens one tap on the newly created (and bland) icon will open the Internet app and instantly navigate to that website. You're all set.
The steps detailed above are exactly the same for all Galaxy devices using the stock Internet app.
iOS Device Instructions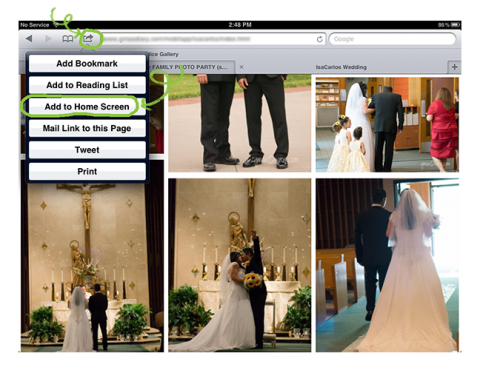 Best Wishes,


Click this Mobil App Link to view a sample Pro Image Share mobil app.