October 3, 2015
was one a favorite day for me– I spent it with my daughter's little family! They are on the go all the time. When we get together, it's a time I cherish. Saturday was such a day. The day began at 9 am. Briella had a tumbling class presentation where family was invited to see the skills they learned throughout the program.
And how cute it was! Front rolls, back rolls, tossing a ball and walking on a balance beam were just a few of the skills demonstrated. All of the parents and grandparents enjoyed the presentation. Afterwards we stopped at the playground for Brie to play on the slide with the other children. Off to lunch we went. Then back to the house for a short rest before our family photo session.
My Daughters Family
Lake Shawnee located in the capitol city Topeka, KS was Erika's chosen spot for family photos.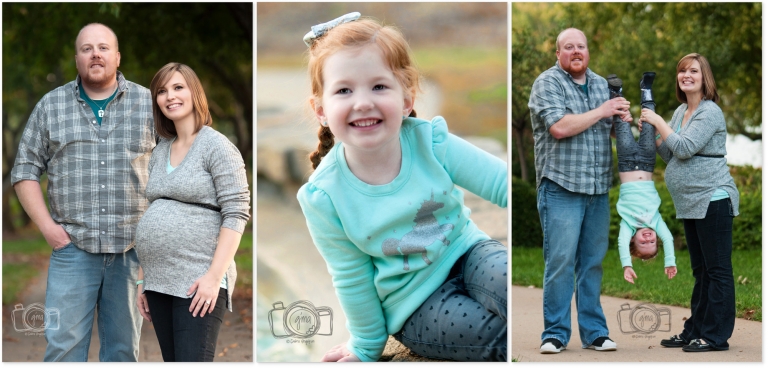 My favorite family picture is the non traditional pose of Brie hanging upside down. For some reason three year old's just do not sit still for long. This was the biggest smile and she didn't move. Just LOVE this!
As you can tell, I will be grandma once again- end of November. Erika and Shaune have chosen to wait until the big day to find out if it will be a boy or girl. The sweet anticipation!
Christmas is just a short 10 weeks and 3 days away. Here's Christmas Card Template 3 – Harmony.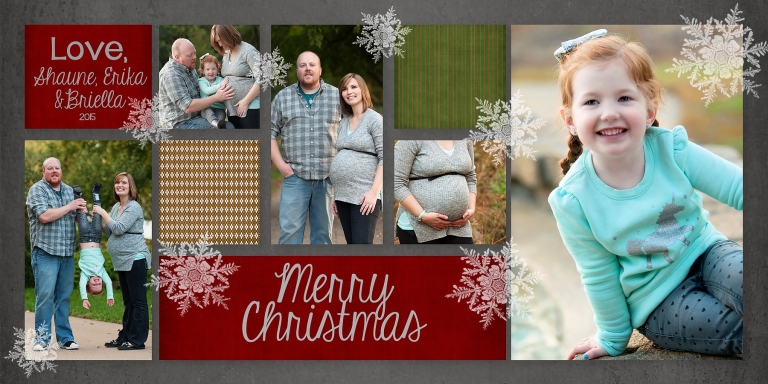 Click the image above for the Fotofusion V5 .scrap file free download. The template includes the background image with image paper squares. Just insert your own images in place of the paper. Fonts used for this template are made by Kimberly Geswein – KG Eyes Wide Open and KG Behind These Hazel Eyes.
For a Photoshop template or if you would like for me to add your images and send a flattened jpeg file, contact me. I will send instructions for how to send your images. Professional photographers work will be respected.
To see more of my daughters family photos, click here.
Have you taken your family photos this year? If not, are you planning on scheduling a session or setting up a tripod and taking your own? Would enjoy hearing your plans!
Best Wishes,