Hi, sitting down to write this week's blog entry I stumbled, hitting a blank wall. I did a lot of internet browsing- ALOT! After playing, an idea came to mind. It's been a bit since I have posted a FotoFusion template and this gave me inspiration. After grandbaby #2 is born- end of November, I would really like to have new business cards made. Right now I am in the gathering ideas stage for the new card. Until then I was playing around with different uses for the business card. My daughter gave me the inspiration for this personal card.
Play Date Card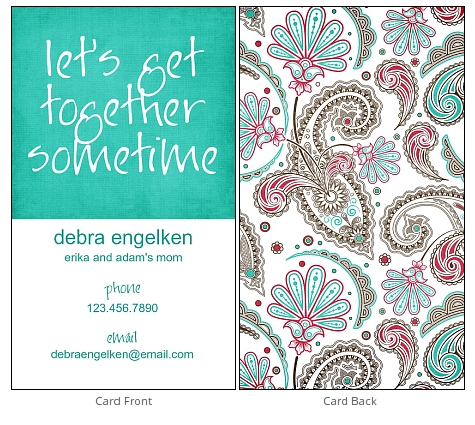 Click this link for the .ScrapPackage FotoFusion V5 template.
This play date card was designed using Mpix sizing guide. You can easily adjust the canvas settings if you would like to use a different printing lab. Most photo labs will have recommended guides posted on their site.
In this digital era, I would also include a QR Code. One can be easily be created and added to the front of the play date template above. There are several different pieces of information the QR Code can deliver- Vcard, URL, text, email, SMS and more.
If you are interested in a Photoshop version template, one can be emailed upon request. You may contact me by scanning the code below using a code reader app on your smartphone. Please note the Photoshop .psd file will be generated from the FotoFusion software. I personally have used these files in Photoshop CS3 and CC.
Template Disclaimer: The download is the template only. The digital paper and font is not included. Simply add your own to the template image place holders.
There are many different resources for digital scrapbook papers. Here is just one link that popped up on my quick Google digital scrapbook paper.
If you would like a printable digital file like the one shown above, contact me and provide the required information. A flattened .jpeg file will be emailed to you ready to print at Mpix.com. Once your request is received, I will advise an expected time frame for your file.
Let me know if you decided to download and use the template. I would enjoy hearing from you!
Best Wishes,