Treasures Found
Hi, it's amazing at how the smallest thing can bring so much happiness. I have started recycling; mainly aluminum cans and plastic milk jugs. Just before grocery shopping I dropped off several bags of cans. Nothing unusual about that. What was fun was the surprise I found once I opened the cover to the recycling can house. Adam was with me and he had his phone with him; he took several pictures. Not me, I had no phone nor camera. So the next day I went back. Another surprise, they were still there!
In the local Dillon's parking lot is the Cans for the Community recycling bin; I refer to it as the can house. Cans for the Community proceeds from recycling are donated to local non-profit organizations.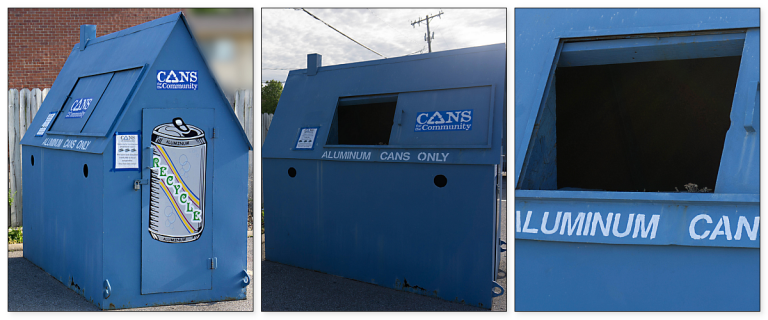 You can see the small mushrooms on the bottom right side of the opened sliding door in the middle and right image above. As cute as these mushrooms are, still be very careful. Mushrooms can be dangerous. We never touched them, just looked at them and took many pictures!
What's even funnier; after taking these pictures I researched macro photography and found that it is recommended shooting with a smaller aperture. The first image above I used the largest aperture for this lens f/3.5. So I went back to the can house the following day. Guess what, they were still there! One had faded (expired, died) and another one had grown open more. Here is one of the pictures taken with the smaller aperture of f/10. Note that in this image my distance is a bit closer to the mushroom treasures.

Have you found any treasures such as this? If so, where did you find it?
Best Wishes,